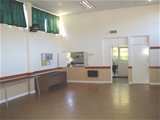 Our hall is well equipped and has enough facilities to cater for most people. The building is divided in to three areas: a kitchen, the main hall and washroom/toilets. The kitchen has recently been refitted and has a new oven, microwave, Quooker hot water tap and an industrial dishwasher with a 3 minute wash cycle. Cutlery and crockery are available. The main hall is a large useful space, and has a large storage cupboard at the back in which you will find folding tables and stackable chairs for your use. Powerful electric heating is fitted throughout building, and all the windows and doors are fully double-glazed. In the summer, tables and chairs can be set up outside on the grass in order to make the most of the fine weather.
If you need a space to hold your event, party, meeting, celebration, exercise class or anything similar, the parish hall has much to offer and could be just what you are looking for.
Due to Covid-19 restrictions the kitchen is not available to users.

To read our Health & Hygiene and Fire policies click the following links: